23mar12:00 am6:00 pmAyahuasca Day @Kokopelli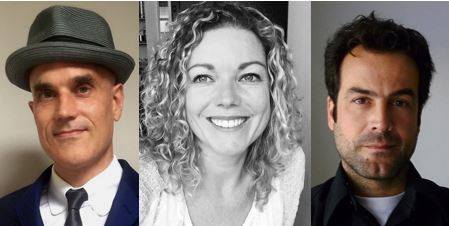 Event Details

We have a special event for you. We want to invite you to a whole day gathering dedicated to the topic of Ayahuasca. We will host three internationally recognised speakers but the day will be much more than just talks. We will provide a lot of time for Q&A, there will be plenty of time for tea and snacks and to mingle with all of the participants.
The event will end with a panel with all of the speakers.

Tickets: 20EUR (including tea and snacks)
A limited amount of tickets available.

Jerónimo Mazarrasa From the jungle to the…? Legislation, self-regulation, and the future(s) of ayahuasca

The ceremonial use of ayahuasca, with its multifaceted complexity, posts a real challenge to most of our current legislation policies, medical and therapeutic frameworks. We'll go over some of the social and cultural aspects that set ayahuasca apart from other psychoactive substances. We'll look at how this challenges the very structures that our societies have in place to deal with issues such as these, and we will finish with some examples of possible approaches for future integration of these plants into our societies.

Jerónimo Mazarrasa is an ayahuasca community activist. He works as Social Innovation Coordinator for the ICEERS Foundation and has been a coordinator of the Platform for the Defense of Ayahuasca Plantaforma since its founding. In the past decade, he has produced and written two documentaries about ayahuasca. The first about the Brazilian Ayahuasca churches, the second about the use of Ayahuasca in the treatment of drug addiction. He has traveled extensively through South America, researching a broad range of Ayahuasca practices, and has lectured internationally on ayahuasca tourism and the appropriation of indigenous knowledge. For the past seven years, he calls Ibiza home, where he hosts The Council Tree, a series of irregular lectures on indigenous knowledge, people, and plants.

Dr. K.I.M. van Oorsouw Cognitive and Therapeutic effects of ayahuasca
A growing body of research demonstrates how ayahuasca may benefit mood disorders and addiction. Dr. Kim van Oorsouw will give an overview of this research and some recent findings on the effects of ayahuasca in healthy volunteers. Van Oorsouw will talk about the therapeutic potential of ayahuasca and the underlying mechanisms that may contribute to this effect. She will talk about studies that have been conducted over the past year in collaboration with drs. Malin Uthaug and Prof. dr. Jan Ramaekers as part of Malin's PhD research. Data were collected at ayahuasca ceremonies guided by indigenous curanderos in Colombia, Spain, Prague and the Netherlands. Sub-acute and long term effects of ayahuasca on measures of mindfulness, creativity, mood and satisfaction with life will be presented. The role of altered states of consciousness and ego dissolution will be discussed.

Kim van Oorsouw, Ph.D., Clinical Psychological Science, Maastricht University, The Netherlands.
I have been working as an assistant professor in forensic (neuro) psychology for the past 15 years investigating memory(loss) and intoxication. A personal experience with ayahuasca several years ago sparked my interest in the therapeutic effects of this psychoactive brew. I'm involved in supervision of the Ph.D. project of Malin Uthaug who is investigating the effects of ayahuasca and other psychedelics on effect and wellbeing. Currently, we are running several studies on ayahuasca and San Pedro (Huachuma) in collaboration with the department of Psychopharmacology at Maastricht University with my personal focus on the effects of ayahuasca in people with clinical depression who are not responsive to regular treatment.

Benjamin Mudge The Therapeutic Potential of Ayahuasca for People with Bipolar Disorder
Although people with bipolar disorder have high suicidality and limited treatment options, they are usually excluded from ayahuasca ceremonies. Given the evidence indicating ayahuasca's efficacy for treating depression, I question whether ayahuasca is safe and effective for treating bipolar disorder?
There is valid concern that ayahuasca would worsen manic/depressive symptoms in people with bipolar disorder because most antidepressant pharmaceuticals and most psychedelics are known to do so. My research has indeed documented numerous cases of bipolar people developing manic symptoms after drinking ayahuasca, but detailed analysis indicates that many of these are false negative results, and that the real majority of bipolar people have therapeutically-positive experiences with ayahuasca. I explain these contradictory results by deconstructing the set and setting of ayahuasca ceremonies, as well as deconstructing the tea itself.
I will present qualitative data from 60 bipolar people that have drunk ayahuasca, and chromatographic quantification of the psychoactive ingredients in 100 batches of tea. I conclude that the crucial factor determining bipolar people's response to ayahuasca is the cooking technique, because variations in cooking technique affect the ratios of the 4 psychoactive ingredients in ayahuasca, thereby affecting the balance of bipolar brain chemistry.
I have developed novel theories about the receptor binding times of 5-TH2AR agonists, the interaction of SRIs with DMT, fermentation, the CNS action of harmala alkaloids – all of which provide scientific explanations of my dogma-refuting qualitative evidence that ayahuasca can be a safe and effective psychedelic medicine for people with bipolar disorder.

Benjamin Mudge PhD Candidate, Psychiatry Department, Flinders University, Australia
Benjamin Mudge has a background in political activism, art and music, and is now a PhD candidate in the Psychiatry Department at Flinders University, as well as Director of Bipolar Disorder Research & Education CIC. He taught himself the science of bipolar disorder – to be able to manage his own bipolar condition – while working at Neuroscience laboratories and GlaxoSmithKline. He invented the "FM Compressor Analogy" of bipolar disorder, which inspired the scientific discovery of phosphoinositide turnover in cortical neurons as the locus of bipolar mood swings and lithium efficacy. After psychiatrists prescribed him 17 different pharmaceuticals (all of which were problematic), he gave up on pharmaceutical psychiatry and decided to find his own solution. He has been managing his bipolar disorder with ayahuasca for 10 years, and was awarded a PhD scholarship by Flinders University to research the potential that his personal protocol could assist other bipolar people. He is an advocate for the religious freedom of sacred ayahuasca ceremonies, and led a team of ayahuasceros to the Parliament of the World's Religions that succeeded in getting the Parliament's recognition of sacred ayahuasca ceremonies as legitimate religious practices.
Time

(Saturday) 12:00 am - 6:00 pm